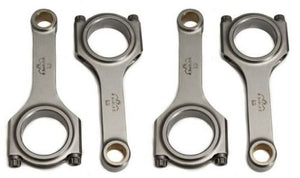 Mak Group Enterprise, Inc.
Eagle K24 H-Beam Rods
Regular price
$376.99
$0.00
Unit price
per
DESCRIPTION
Eagles rods for the Honda K24 engine.
All Eagle "ESP" Connecting Rods are manufactured from a TWO-PIECE FORGING. The forging process forces the grain into the shape of a connecting rod, resulting in a superior fatigue life. The rod cap is forged separately so that the grain runs perpendicular to the load forces, which strengthens the connecting rod.
Many aftermarket connecting rods are manufactured from 4340 steel. 4340 specs allow a range of different materials to achieve the desired results. Although it is a more expensive process, all Eagle "ESP" 3-D connecting rods also include higher content of nickel & chrome, which increases the strength & fatigue life without making the connecting rod brittle.
Extensive testing has proven Eagle's two-piece forging superior to any one-piece forging on the market! All Eagle "ESP" Rods are clearly identified. Proper rod bolt torque is vital to connecting rod life. A rod bolt fastner is without question the highest stressed fastener in the engine. The big end bore of the connecting rod is a stressed bore in much the same way as cylinders are on a block. It is equally important to torque properly to provide proper strength & to insure the big end of the rod sizing is correct. Improper torque will result in premature rod failure!
Beware of connecting rods that do not include torque specifications.
---