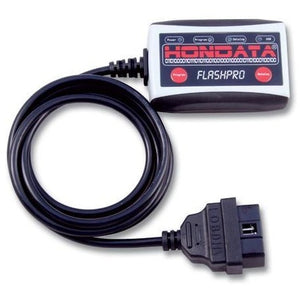 Hondata
Hondata Flashpro
Regular price
$795.00
$695.00
Unit price
per
The FlashPro allows full user tuning and datalogging for your car. It includes Windows based software called FlashProManager. The FlashPro connects from your laptop's USB port to your vehicles diagnostic port to provide live tuning with a variety of calibrations, extensive real time and stored datalogging capabilities.
Warning
Not legal for sale or use in California on any pollution controlled motor vehicles. See http://www.semasan.com/emissions for state by state emissions requirements.
Sales Market
This FlashPro can only be sold to US/Canada addresses.
Features
Programmable ECU interface.
Connects via OBDII diagnostic port.
USB 2.0 connection
Works with Laptop or Desktop
No ECU modification necessary.
20 hours on board datalogging memory.
FlashProManager Windows software.
Check and clear diagnostic codes.
Dual calibration storage - upload from one of two calibrations stored in the FlashPro
---